Bullying in the workplace has many impacts and consequences. Employees can suffer various levels of psychological injuries from being bullied. It may also cause employees to subtly withdraw their labour and work to rule. This results in ineffective workplaces with reduced productivity.
A recent study has added to the list of impacts and consequences finding that being target by workplace bullying can result in increased unethical and counterproductive behaviour from those workers.
Focused on the health care sector, 439 nurses participated in the study. The research itself explored how three discreet emotions – anger, fear and sadness – were linked to the health of the bullied target and counterproductive workplace behaviour by the target.
Counterproductive behaviour generally refers to aggressive and deviant behaviour at work. It generally relates to any act violating the legitimate interests of the organisation, and harming it or its stakeholders.
Unsurprisingly, the study found that workplace bullying results in feelings of anger, fear and sadness, also finding that all three emotions were associated with negative health symptoms.
However, the study also showed that bullying and the three emotions were connected with counterproductive behaviours that targeted both other employees and the organisation. Interestingly, each emotion was linked with a different response from the bullied target.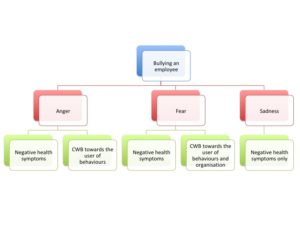 Anger more likely resulted in counterproductive work behaviours towards the individual using the bullying type behaviours.
Fear more likely resulted in counterproductive work behaviours towards both the user of bullying type behaviours and the company or organisation.
Sadness was linked only to negative health symptoms and not counterproductive workplace behaviour.
What implications for us in our workplaces?
Research like this continues to help us to understand the complex nature of bullying. The way targets of bullying respond can be difficult to understand to those not experienced with the impacts of workplace bullying. It does help us to understand that bullying results in workplace injury, with all cases being linked to negative health outcome. Importantly, it does help us to provide the right support to a person targeted by bullying behaviours.
However, on an individual level, we can use this information to prevent or minimise the impacts of workplace bullying. If we understand why we respond to bullying as we do, we can act to temper it. Therefore, a key part to preventing workplace bullying is education and training on behaviours that form part of the problem.
Helping employees to understand and change their behaviours is a key to creating safer, bullying free workplaces.
Source: Fida, R et al, 'First Do No Harm': The Role of Negative Emotions and Moral Disengagement in Understanding the Relationship Between Workplace Aggression and Misbehaviour, Frontiers in Psychology, 2018