Workplace bullying appears to be everywhere.
While the Australian Barometer reported in 2016, that Australian bullying rates were at 9.7%, other workplace surveys and research have reported rates much higher. This can be dependent on industry and work group. For example, recently Tasmania's public service reported bullying rates of 21%, while earlier this year Queensland apprentices reported bullying rates of 27%.
All of this is in an environment where workplace mental health claims increasing massively since 2000 significantly contributed to by workplace bullying. Cost of claims have risen by 166% to over $30000 per claim, while lost work time has increased by 54% to 17.3 weeks. Workplace bullying is costly.
Turning this around requires us to empower our employees. Empowering our employees requires our workplace leaders to create psychological safety and up-skilling our employees to intervene in negative workplace behaviours early preventing escalation.
Employee empowerment needs leaders who create psychological safety
Psychological safety, according to Timothy R Clarke, has four components which must be present in a psychologically safe workplace.
Inclusion safety
Learner safety
Contributor safety
Challenger safety
Inclusion safety satisfies our human need to belong and involves inviting others into our group without prejudice.
Learner safety satisfies our need to learn and grow. Within it, we are safe to ask questions, give and receive feedback, experiment and make mistakes.
Contributor safety means we are free to contribute and use our skills and abilities in a positive way to make a difference.
Challenger safety satisfies the basic human need to make things better in a supported and confident way. We can do this without fear of ridicule or retribution.
When we consider these characteristics in bullying prevention terms employees who feel part of a team are more likely to feel safe enough to provide feedback to each other, contributing to individual and team improvement and challenge inappropriate behaviours in a professional and respectful way.
Empowered employees need to be up-skilled to intervene early
A psychologically safe workplace is only one part of bullying early intervention. When faced with challenging behaviours, we still need the skills to intervene. This is because our brains can perceive these interventions as threats and our bodies release hormones that encourage us to flee for our own protection.
We use a four step framework (R-A-M-E) to up-skill employees to intervene early preventing escalation to bullying claims. These include:
Recognise the behaviour
Act on the behaviour
Monitor for change
Enforce, where required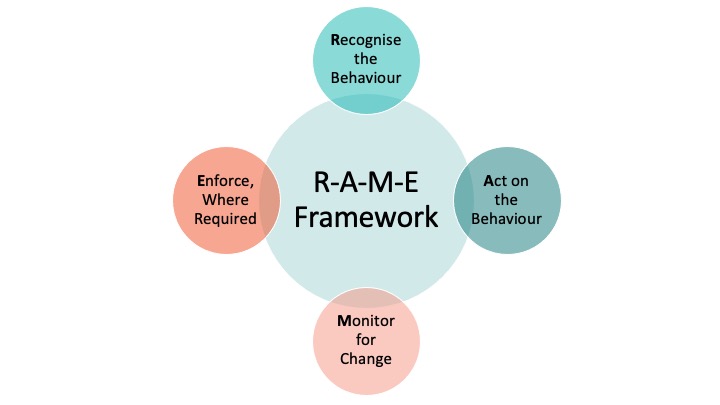 Recognising the behaviour involves educating your employees to identify behaviours that could indicate a bullying pattern of behaviour early before it becomes a bullying claim. However, for this to be effective, it is important employees learn about their internal warning signs that stop them from acting. We need to teach them to over-ride their need to retreat from the issue.
Act on the behaviour teaches employees they don't have to wait until it gets unbearable to act. It focuses on how to challenge the behaviours early in a professional and safe way.
Monitoring for change teaches employees how to make sure things are going according to plan.
Enforce, where required ensures your employees know what to do if the behaviours don't change. It teaches them to do it in a timely way before escalation to bullying and, ultimately, mental health injury.
To reduce bullying claims and it's associated injury, we need to empower employees at act early. Creating psychological safety and up-skilling your employees not only early leads to better workplace mental health for them, but better and more cost effective outcomes for your business.
Learn more about our Workplace Bullying Prevention Workshops
Contact us today for a confidential discussion on how we can help you through our preventative bullying workshops.